Brittany Breed Information
History
The name "Brittany" is taken from the Brittany region in northwestern France where the dog originated. Images of orange and white Brittany-like dogs hunting and retrieving game were first seen on tapestries and paintings from the 17th century.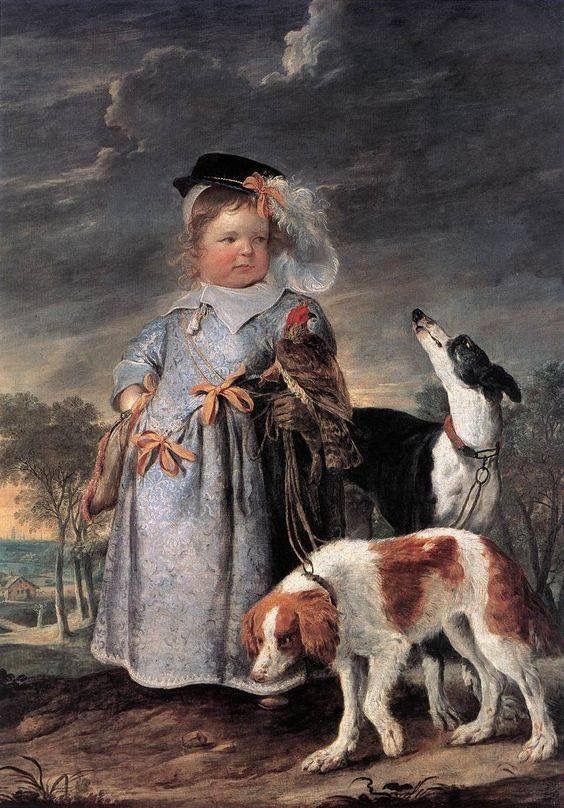 Portrait of a Young Boy-Erasmus Quellinus1605
The first written and verifiable record of Brittanys comes from a hunting description written by Reverend Davies in 1850. He described hunting with small "bobtailed" dogs that pointed and were excellent retrievers. It was around the same time that the modern Brittany is rumored to have been bred by mating with English Setters. The Brittany was first shown at the Paris Dog Show in 1900.
The Brittany was first recognized as a breed in 1907 when an orange and white male named "Boy" was registered in France. As a result, the first standards were outlined in the same year. America recognized the Brittany in 1931 and the breed was approved by the American Kennel Club in 1934.The Brittany was first imported into Australia in 1974-75 these imports came from France, Netherlands, Hawaii and main land USA. They were and still are a highly respected and sort after gundog. In Australia the Brittany is classified as a Utility Gundog which means they hunt, point, flush and retrieve their game. Hence the Spaniel was dropped from the breeds name in 1981 as they do not work like a spaniel. Unlike many other breeds, the Brittany has not been split into show and working lines. With more American dual champions (dogs with titles in both conformation shows and field trials) than any other breed, the Brittany maintains strong hunting instincts.
Appearance/Characteristics
A Brittany is typically quite athletic, compact and solidly built without being heavy. A medium sized dog, growing to approximately 51cm and weighing between 14 and 20 kilograms, with a relatively short body, coat with some fringing on the backs of the front and back legs and ears. A strongly built little dog that has a short stocky body and a slight leggy appearance. The Brittany has short broad vine shaped drop ears that are set vey high on the head. Their muzzle is shorter than their skull with a broad wide muzzle and large wide open nostrils for good scenting whilst working. The Brittany's expression is intelligent, soft and gentle, never course or mean looking; even the adult males have a melting soft eye and facial expressions.
They come in several colours orange and white, liver and white, liver tri colour, orange roan and liver roan.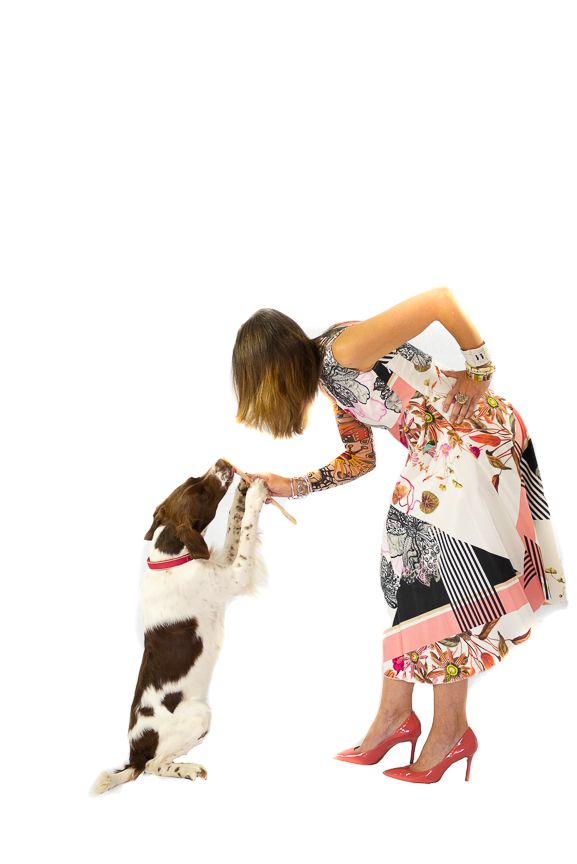 Temperament
The Brittany was originally bred as a hunting dog and is noted for being easy to train and sweet natured. The Brittany is a gentle, fun loving, happy go lucky active dog that loves to be included in all the families' actives what ever they might be. They are very intelligent dogs with a willingness to please and are quick learners. Most Brittany's do not respond well to harsh or hard training, they respond very well to positive reinforcement training. 

The Brittany is usually a very friendly breed they love people of all ages and get along with other breeds of dogs very well. They will also live quite nicely with cats and other furry family members if brought up with them from a young age. 

Brittany's love nothing better than a good gallop out in the open, whether it be in a field or along the beach. They are also willing and able to join in on a game of fetch, jogging or a quiet family walk in the park.
Health and Care
Brittanys are generally healthy and hardy dogs. The average lifespan for Brittanys is 12 -15 years. All breeding dogs should have hips and elbows scored and have been certified eye and heart disease clear.
Brittanys have no undercoat and are actually quite easy to groom and care for. Their coat is wash and wear requiring just a bath and brush once a fortnight or as needed. Whilst they do drop some hair, they are not heavy shedders so you won't find great clumps of hair all over your carpet.
Kirinbell Start Me Up - Zeus Photo by Nick Kiossoglou
Contact Details
Samantha Ibbott-Cordi
Sydney, NSW, Australia
Phone : 0419695206
Email :
[email protected]